Have you ever wondered what kind of towels hotels use? And how on earth they keep them so beautiful, fluffy, and white? Well, in this article, we're going to let you in on some industry secrets, so that you can enjoy hotel-quality towels in the comfort of your own home! Sure, it's never quite the same as being able to go to a hotel in a lovely sunny destination, but at least you can enjoy some of the perks!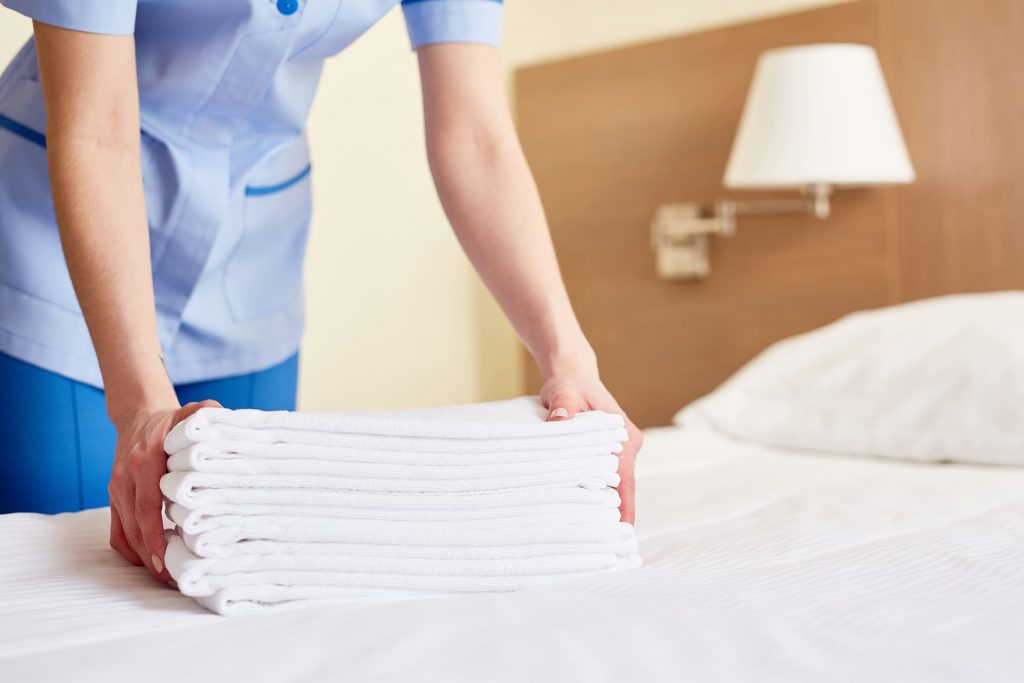 What kind of towels do hotels use?
Most superior hotels are very consistent with the standard of towel that they provide every room with. Big, soft, fluffy, and white! Just the way we love our towels. But, what type of towels do they use? Are all hotels buying their towels from the same place?
The answer of course, is no. But, there are certain preferences when selecting their towels:
Grams per square meter: High-quality towels always have a higher GSM value (grams per square meter). Typically, a quality towel with a high GSM value will come in at around 400-600. These tend to be much heavier, softer, durable, and ultimately superior in every way (and able to survive regular washes).
Material: Another important factor is the material. The fact is, most high-end hotels favour Egyptian Cotton for their towels, given the fact that it is softer, cosier, and fluffier than standard cotton alternatives. In some cases, certain hotels may favour Turkish Cotton, which is also of a superior quality.
Size and weight: The size and weight of the towels used by most high-end hotels is also important. You'll find in the real quality hotels, they will offer hand towels, bath towels, washcloths, and of course, bathrobes as well. All of these will be made from the finest materials. But, aside from that, heavier towels tend to feel much more luxurious and subsequently offer better absorption as well.
How do hotels keep their towels so fluffy?
OK, so now you know what type of towels hotels prefer to use, but how do they keep them so fluffy? After all, their towels are cleaned regularly and on a daily basis, so how do they survive the constant washing and still remain so cosy to the skin?
Detergent: When it comes to detergent, contrary to popular belief, less is more. You want to use a limited amount of detergent so as not to build up the soapy residue that begins to stiffen towels over time (and lose their absorbency). Mild detergents with a normal pH are ideal.
Fabric softener: It's always tempting to go for fabric softeners, given how attractive the name is. However, our advice is to try and avoid these chemicals at all costs and opt for natural solutions (e.g., using vinegar). This will not only make your towels softer and fluffier, but it can remove stains and odours effectively well as well.
Regular washing: You need to be diligent when it comes to washing your towels. Don't sit around waiting for them to smell before you wash them. You see, damp and dirty towels are a breeding ground for germs, mildew, odours, dead cells, and even the soap from your body. As such, clean your towels as often and regularly as possible in order to keep them nice and fresh.
Drying: There is such a thing as under-drying towels, and over-drying them as well. Both can lead to damaging the fibres. This is why you will often find that hotels take their towels out of the tumble-drier before they are completely dry and finish the process on the washing line. Additionally, towels that are dried in the fresh air smell much better as well.
Baking soda: That's right! With half of a cup of this delightful natural ingredient on every wash can make the world of difference. Baking soda acts as a natural softener for fibres and can even be used to remove stains with ease. Alongside that, baking soda effectively deals with odours, keeping them soft, odourless, and fluffy for longer! Baking soda really is a wonder product that authorities even recommend using when cleaning your home!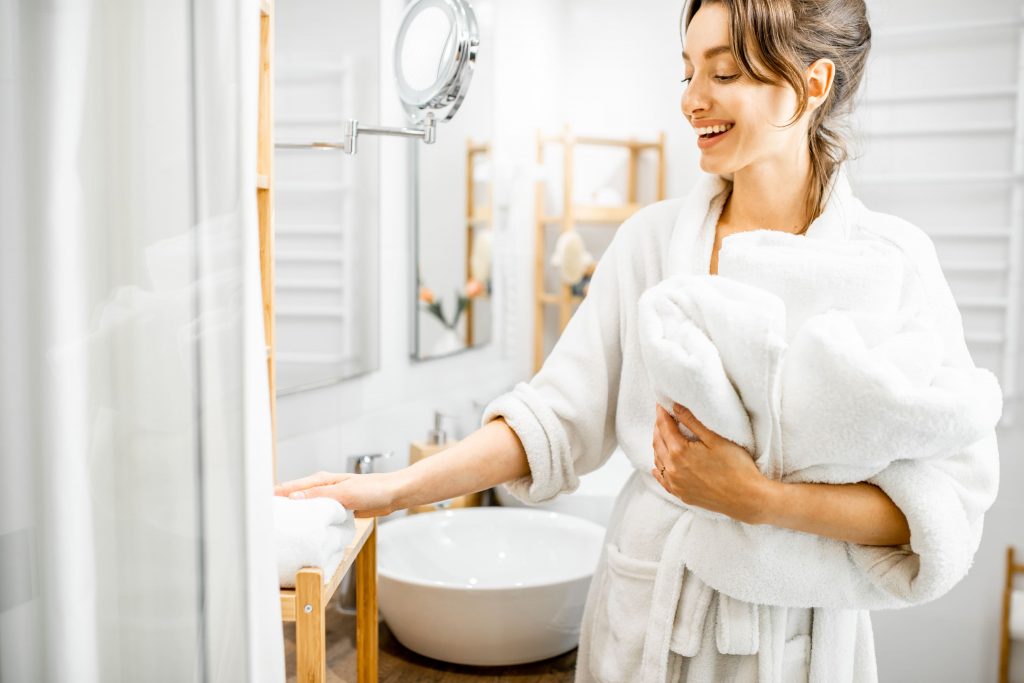 How do hotels keep their towels so white?
When it comes to hotels keeping their towels white, there is a little knack to it. That said, many hotels will have different tricks that they will adopt in order to keep their towels from going grey.
Some, use special detergents, others invest in quality washing machines, whereas the truly ingenuitive ones will use a rather special approach:
Throw a special mixture of baking soda, laundry detergent, soap, and cold water into a pot, then put your towels in and boil them over half an hour. Following that, wring them out and put them into your laundry machine to finish off with a proper wash.
Again, another trick is to make sure that you wash your towels regularly. It can be tempting to leave them until they begin to smell before you wash them but this is not advisable. If you want to keep your towels white and fluffy for longer, then you should follow some of the amazing tips that we have shared with you today.
Conclusion
And there it is: all of the secrets revealed! It's in the quality, the material, the frequency at which they are washed, the detergents and softeners used, the additional organic additives that work wonders, and the way in which the towels are dried. If you adopt this approach to your towel maintenance, then you can enjoy some truly authentic Thai Hotel Towel quality softness for yourself!